Welcome to Royal Roads B&B
Accommodation
Welcome to Royal Roads B&B, situated on the beautiful Esquimalt Lagoon, open to the ocean. We offer the best of both worlds: a tranquil bed and breakfast experience on the water and the opportunity to explore beautiful Victoria, British Columbia, Canada. A welcoming and relaxing atmosphere awaits you, as well as warm hospitality and wonderful views. Enjoy golfing, fishing and sightseeing.
click to enlarge photos...
The Royal Roads Suite
The Royal Roads Suite is spacious and tastefully decorated and can accommodate up to 3 guests. (A cot can be setup for an additional child.) Guests will marvel at the ever-changing vista through the 10 foot bay window and garden doors just 50 feet from the water. Enjoy the view in a comfortable sitting area which includes TV/DVD/Video and fireplace or from your own private patio area outside the garden doors.
Our vacation rental accommodation includes a queen bed and one single bed and a fully equipped kitchen. High-speed internet and laundry facilities are also available.
Royal Roads University students attending short term residency will find the suite suitable for their needs. It is a 10 minute walk, or 5 minute drive, to the university property. For more info about the university, please go to www.royalroads.ca.
Your Hosts, Jannice & Doug Foreman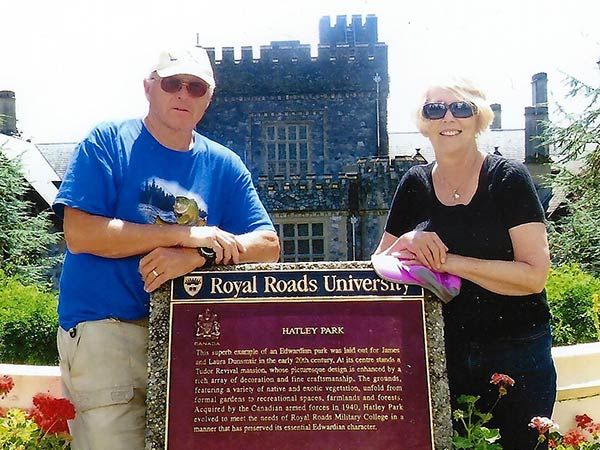 Doug began his military career at Royal Roads Military College which is now Royal Roads University. For 35 years he served with the Military Engineers throughout Canada and abroad. Since retiring, he has formed his own consulting company and now accepts short term international contracts. His interests include scuba diving, fishing, making wine and making sawdust!
Jannice is a retired ESL teacher and now enjoys focusing on artistic pursuits. She can often be found in her studio where she enjoys sculpting, painting and working on mixed media creations.
Both Jannice and Doug enjoy sharing their home with guests from around the world!